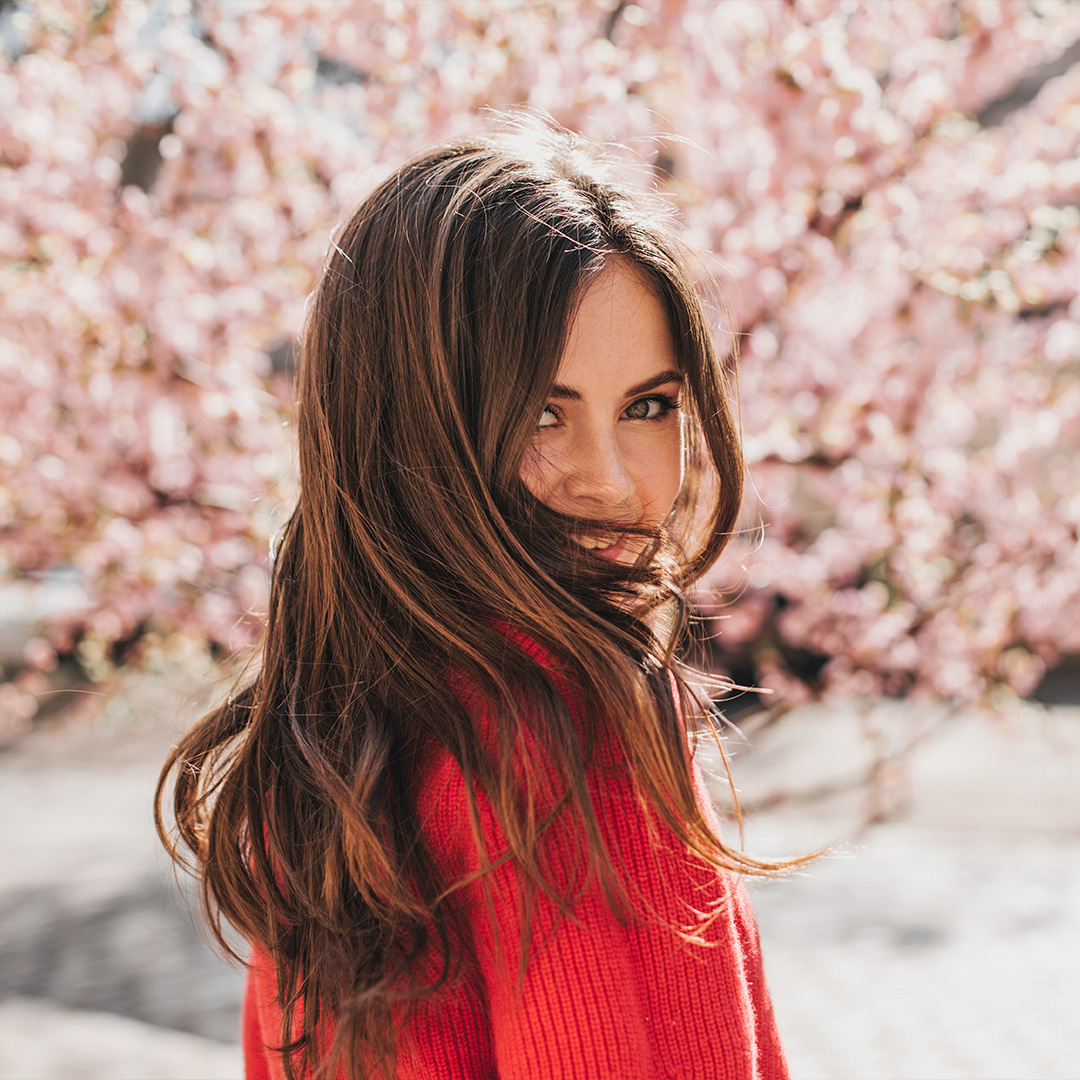 Spring has finally begun! After the change of time and the change of season in the wardrobe, it's time to focus on the health of your hair. Before you start thinking about changing your haircut or color, it is essential to learn how to treat your hair in the right way, to keep them healthy, bright and elastic going to insert in your classic hair beauty routine, some tricks that will be useful to face the spring period.
Each season of the year corresponds to a specific hair care routine. The needs of our hair, in fact, can change month by month and among the many factors that affect their health there is definitely the change of season and climate.
Hair in spring: more frequent problems
In general, there are two problems that occur most frequently during the spring period: hair loss and their tendency to take on a frizzy and unruly appearance. 
Seasonal changes are often the cause of an increased hair loss. Losing 50 to 100 hair every day is completely normal: it is part of the life cycle of the hair. In the spring the number of fallen hair increases, but if the fall is uniform and stops within about 3 weeks, you should not worry. On the contrary, if you notice some particularly thin areas of the scalp, it is advisable to immediately contact a specialist to investigate the causes.
In spring our hair is put to the test: come the beautiful days, but also the first seasonal rains. Our hair is the first to suffer from these changes in temperature and humidity. On humid days the micro droplets of water are deposited on the hair, lifting the cuticles and making them appear swollen and disordered; our hair then become dry and rebellious, dull and frizzy, difficult to comb and keep in the fold.
We at Glam1965 can help you regulate your hair and make it more shiny and healthy, with products all natural! 
How to make an effective spring hair beauty routine
To achieve an effective hair beauty routine, we recommend that you follow some practical actions.
Step 1: Help your hair with a specific supplement.
Despite a balanced and varied diet, it is sometimes difficult to assimilate sufficient active ingredients: the appearance of our hair very often reflects some deficiencies in nutrition. Nutritional supplements, used responsibly, can be an effective aid to ensure the body the right intake of vitamins and minerals, supporting the hair from the inside.
Step 2: Do not wash your hair every day.
Washing hair too often can deprive them of their natural oils and this, in addition to fading the color, can make them dull. Overdoing the number of washes can also make your skin dry and cause the dreaded dandruff. The solution? Depending on the type of hair, try to wash them every other day. 
Step 3: Use specific shampoo and conditioner.
Always try to choose mild shampoos on your hair scalp, but also formulated with active ingredients specific to the needs of your hair. If you notice more hair loss, opt for a hair loss shampoo with a matching conditioner. If your problem is frizzy hair, a moisturizing shampoo will be perfect. Prefer certified natural products. 
Step 4: Apply a treatment 
This step is crucial. Whether it is an oil to massage, a lotion to apply, a vial to use constantly, always remember to include this step in your routine. It will make a difference, going to enhance the previous steps.
Organize your Hair Beauty Routine with the natural products by Glam1965
Glam1965 is a brand of organic cosmetics that was born from DELTA BKB, an Italian company specialized since 1965 in the production of professional natural cosmetic products. Embracing a totally green philosophy, Glam1965 offers a wide range of organic cosmetic products for the treatment of face, body and hair. Specifically, Glam1965 team has more than 50 years of experience in solving hair scalp abnormalities and in the study of natural hair treatments. 
The laboratories of Glam1965 have composed some professional kits for hair beauty routine designed to meet every need of the hair. 
ACTIVA KIT A1+, A2 and A3 activating hair growth
ACTIVA Kit includes natural fall protection products and it is composed of A1+ organic shampoo activating and volumizing for fine hair, A2 organic activating oil from the fall-down properties and A3 DEEP FRESH activating and refreshing treatment in vials.

How to use: apply shampoo on wet skin and hair, massaging gently. Then rinse thoroughly. Then apply A2 oil to the skin, massaging it to allow the active ingredients to penetrate deeper. Rinse. Finally, apply an A3 vial to clean skin and massage until it is completely absorbed.
Integra Hair & Nails Supplement
Integra Hair & Nails Supplement is an organic nutritional supplement for hair and nails containing keratin and millet extract, as well as Zinc and Folic Acid, which makes hair and nails more vigorous and healthy. The recommended daily dose is 1 capsule. 
Hidrata Kit is formulated for dry and frizzy hair. The Organic Kit consists of: H1 Organic moisturizing and activating Shampoo, H2 organic conditioner and H3 Treatment in vials. 

How to use: apply and massage the shampoo on wet skin, then rinse thoroughly. Proceed with the application of the conditioner and rinse after 5 minutes. Finally, apply the vial H3 and massage the product until completely absorbed, without rinsing. Use the vials 3 times a week for the first 30 days and then 2 times a week. Only in case of massive hair loss, daily use for the first 30 days is recommended.